Sustainable Evolution Steps: the process from "counting" the data to a moral development
INNORBIS is a reliable tool for supporting efficient decision-making across asset management, asset owners, investors, governments, the private and public sectors, and institutions, taking into account multiple layers of data information complexity, and multiple financial and sustainability factors and indicators, in an automated and simple quants solution.
The services we offer provide a boost to market's competitive advantage and capital evaluation in the transition. The tool has the purpose to show objective priorities to be taken, opportunities and minimising hidden risks and consequently material costs, financial, environmental and human costs, that we are encountering alongside our evolution today.
In summary:
Digital qualitative & quantitative data integration - more than 20 data sources
Dynamic analytics fair comparability - more than 20.000 companies & 193 countries and 800 cities, 50 million data points and growing
Scientific sustainability measurement with 2000 indicators and KPIs
Objective, independent and transparent predicting SDG/ESG factors for integration
AI and deep learning algorithm process and correlation data analysis made simple
Market solutions for current ESG/sustainability data challenges
The 7 INNORBIS steps you need in your sustainability analysis:
EU Taxonomy disclosure reports: New European Regulation 2021. Identification and interpretation of classification for the company/institution development
Comparison of organisations/ cities/ companies/ countries/ financial instruments/equities on our sustainable measurement standard scale
Scientific verification of data information with high reliability, uncertainty levels and relevance
Support companies and institutions in their communication efforts with transparent underlying information and investments content
Identify financial materiality in sustainable investments and impact/thematic priorities
Certification of high quality of objectiveness, fair comparison and completeness
Provide reliable service for growth and assessment of the sustainable targets
Sustainable Evolution Steps: from counting data, statistic ratings to sustainable development
Next to all reports and analysis available at the different packages - the Unlimited Package offers a list of Sustainable content of all assessed information , based on our sustainable global progression scale.
This is for example a list of the best sustainable companies to invest in across the globe, based on:
Comparable measurements or milestones levels between companies;
Its objective - due to its robust AI, raw data processes and scientific method to calculate - our reliability is the highest in the market.
Its transparency, high quality, truly relevant data we can calculate the real progress and impact.
Global Progression Scale towards common target
Synopsis - current level for optimisation towards ambition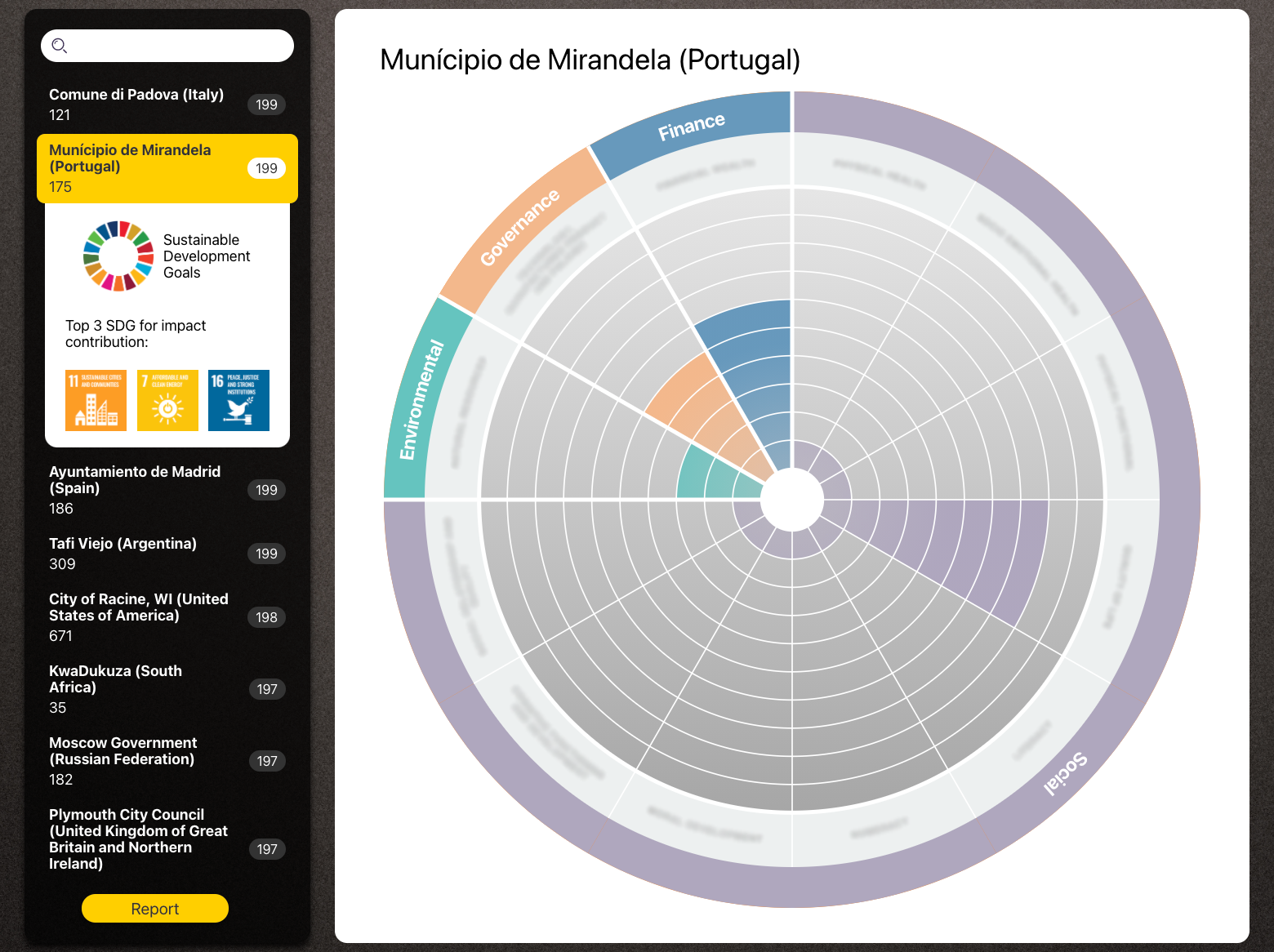 Long Term Sustainable Portfolio Inspiring Investment
Innorbis Software & Methodology
Innorbis is a Software based on:
A collection of trusted data sources,
Sustainability, financial and economical indicators and parameters
Sustainability metrics in a progression scale for comparison
A deep mathematical model of emergent, stochastic, and adaptive processes.
How do we do it?
We have mapped in a robust ruled based process measurements in support to the 17 SDG's, integrating each indicator, where we take into account the interdependencies among the different sustainable development goals (SDG).
All of Innorbis indicators work together to provide coherent, consolidated measures and extrapolated integration towards the integration for financial impact assessment and sustainable investment at different levels.
INNORBIS applies metrological techniques in its integrated assessment model, providing quality-assured metrics capable of supporting financial markets with sustainability (ESG) factors.